Real Fruit Tea by Fruit First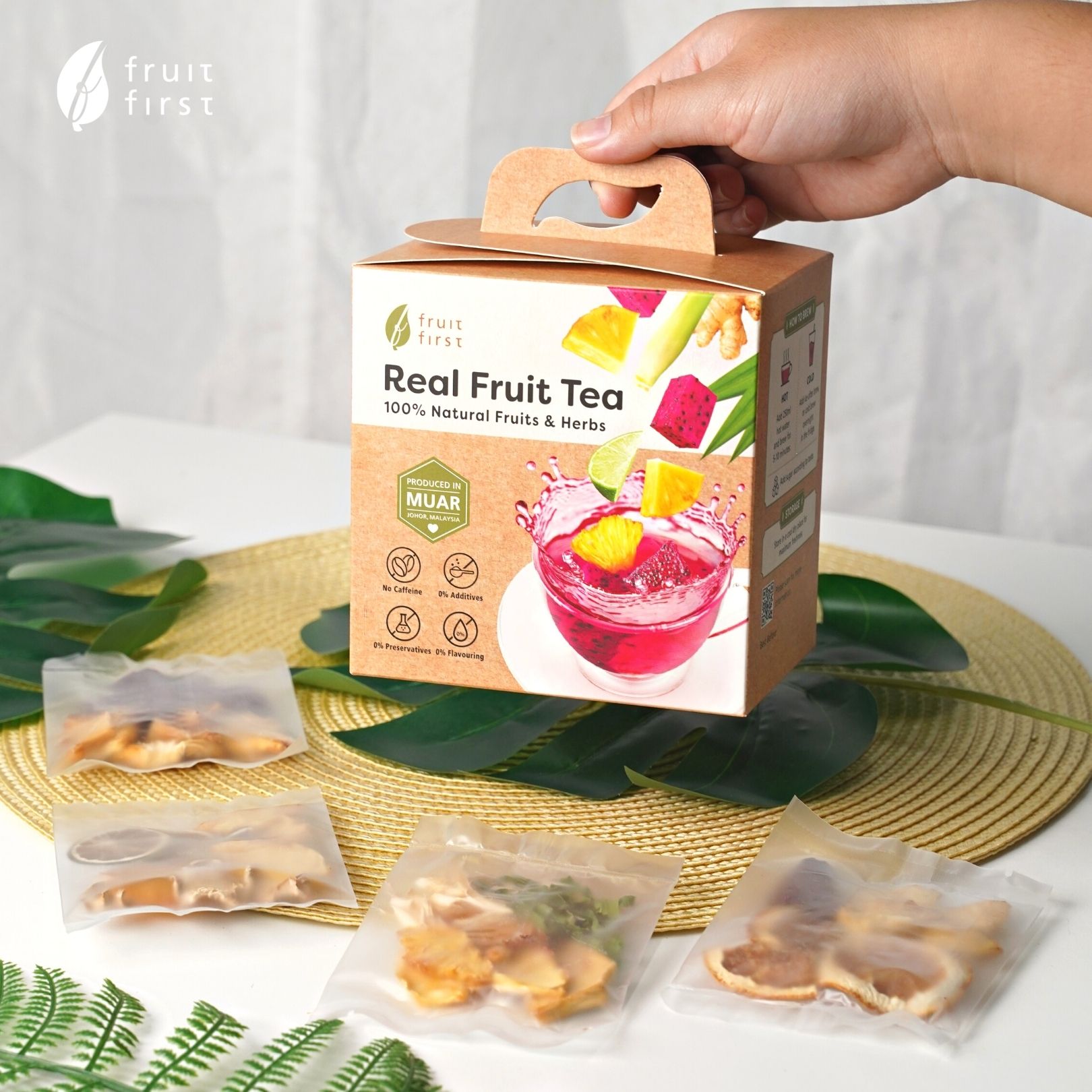 Non-caffeine, 100% Pure fruit, herbs, and spice
无咖啡因,100%纯天然水果与香料
Made by Pineapple Dragon Fruit Orange Pandan Serai Lemon Grass Ginger and so many...
天然食材如黄梨、龙珠果、香橙、斑斓叶、香茅、生姜等
0% Flavouring, 100% Original
100%绝无调味剂,纯天然口味
Fruit pulp can be eaten after finishing drinking.
喝完后果肉均可食用
100% Made in Malaysia
100%马来西亚生产制造
影片介绍 Video introduction: https://www.youtube.com/shorts/DL3EouG5jC8
Suitable for daily happiness boosting.
一天从早到晚都适合饮用的水果茶
冲泡方式 Brewing instructions
加入约300ml 热水冲泡5-10分钟即可享用
Hot tea: Pour 250ml of hot water and brew for 5-10 minutes.
可加入冰块,或加入常温水冷泡至隔日饮用
Cold brew: Add ice after brew, or brew with room temperature water and keep overnight in the fridge.
*茶包均附上冰糖,可依个人口味调整,或以蜂蜜取代,喝出不同风味
*Add rock sugar that is provided or honey according to taste.
招牌果茶
Fruit First Signature
龙珠果,黄梨
Dragon Fruit, Pineapple
招牌龙珠果独特的清甜滋味包围着黄梨的果香甜有助排毒护胃,提高身体免疫力
A unique and sweet taste of dragon fruit paired with the sweetness of pineapple.
Helps to detoxify body and strengthens the immune system.
甘榜果茶
Kampong Fruit Tea
黄梨,香茅,斑斓叶
Pineapple, Lemongrass, Pandan
黄梨搭配斑斓叶与香茅的芬芳层次丰富,有助提神、驱寒健胃消脂、降血脂
A rich taste layered with sweet pineapple, fragrant pandan leaves and soothing lemongrass. Helps to refresh the mind, keeps the body warm, improves digestion, reduces fat and blood fat.
青柠暖心果茶
Warmth Fruit Tea
黄梨,青柠,姜
Pineapple, Lime, Ginger
黄梨搭配青柠的酸香与姜的提味完美融合,有助健胃消食驱寒,缓解疲劳
A perfect combination of sweet pineapple, rejuvenating lime and ginger root that
improves digestion, keeps the body warm and relieves fatigue.
缤纷香橙果茶
Colourful Orange Tea
香橙,黄梨,龙珠果
Orange, Pineapple, Dragon Fruit
招牌黄梨搭与龙珠果搭配香橙的芬芳,清甜美味有助提高新陈代谢、调节免疫力
A sweet and delicious tea, infused with the aroma of signature pineapple, dragon fruit and orange. Helps to increase metabolism and regulates the immune system.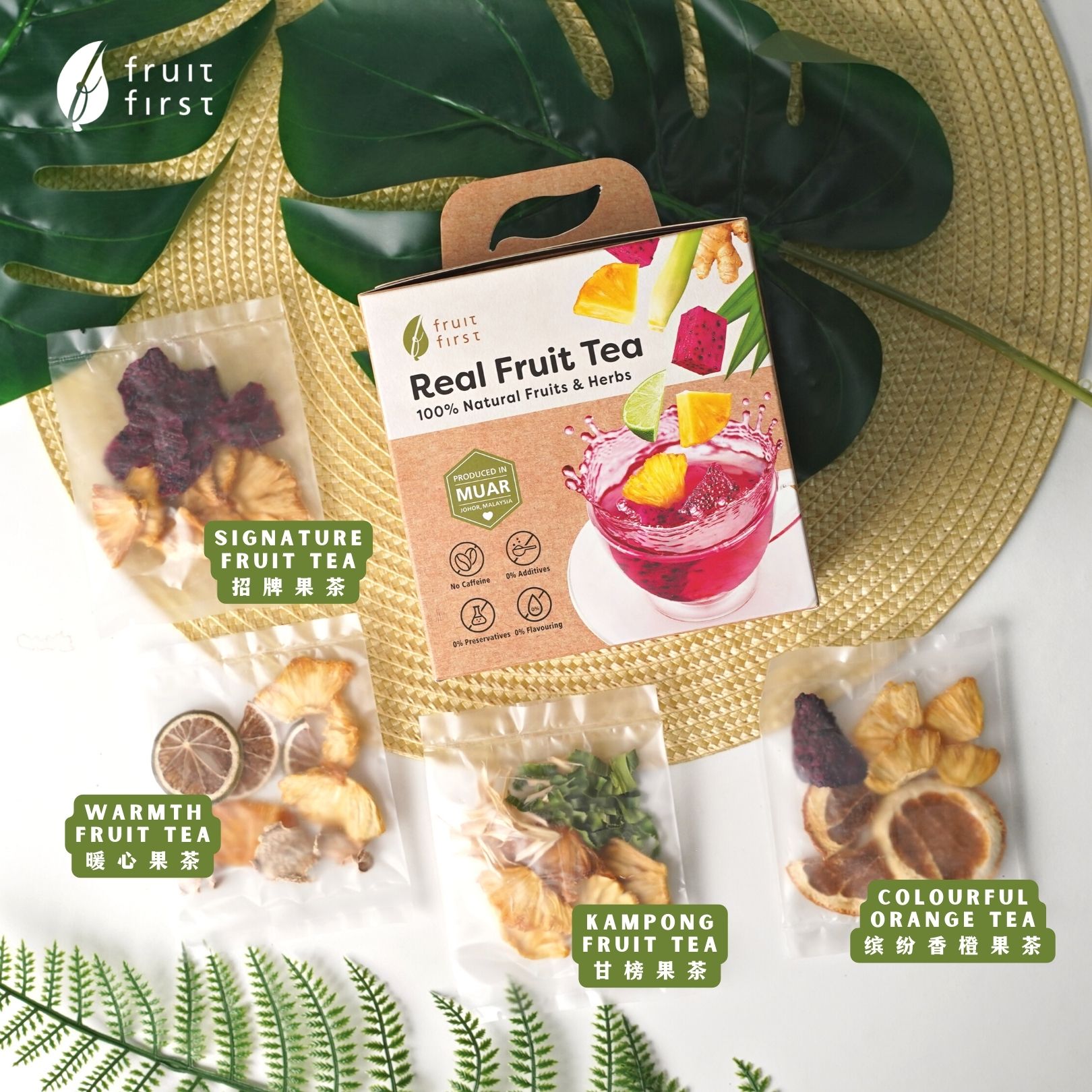 1 Box contain 8 servings (1盒8杯份)
Mix Fruit Box
Signature Fruit Tea x2 (Dragon Fruit, Pineapple)
Warmth Fruit Tea x2 (Pineapple, Lime, Ginger)
Kampong Fruit Tea x2 (Pineapple, Pandan, Lemon Grass)
Colourful Orange Fruit Tea x2 (Pineapple, Orange, Dragon Fruit)
招牌果茶 x2 (龙珠果,黄梨)
青柠暖心果茶 x2 (黄梨,青柠,姜)
甘榜果茶 x2 (黄梨,斑斓叶,香茅)
缤纷香橙果茶 x2 (黄梨,香橙,龙珠果)
Kampong Fruit Tea Box
Kampong Fruit Tea x8 (Pineapple, Pandan, Lemon Grass)
Warmth Fruit Tea Box
Warmth Fruit Tea x8 (Pineapple, Lime, Ginger)
Colorful Orange Tea Box
Colourful Orange Fruit Tea x8 (Pineapple, Orange, Dragon Fruit)
Signature Fruit Tea Box
Signature Fruit Tea x8 (Dragon Fruit, Pineapple)

How to keep 如何储藏:
In-room temperature: Best consume within 2 months to ensure freshness after receiving the fruit tea.
In-chiller: If keep in chiller, can keep for 12 months.
室温保存:在室温下最佳尝鲜期为收到水果茶的2个月内
冷藏保存:如保存在冷藏可保鲜至12个月